Chinese School Interview: Wendy Wei
by Angela Zhang
Being creative is a gift. It captivates your peers, impresses people, and it brings out the best in you. Being creative, from just simply signing your name elaborately, to making a worldwide improvement (like the computer!) both creates a significant masterpiece and is fun. Eleven year old Wendy Wei has creativity, and a major talent in art. Starting from scratch, just from her own imagination, she created a wonderful picture that certainly was an eye-popper. It won second place in the Lexington Chinese School new year's art competition in the Varsity Group! (Shown below) She caught the judges' eyes, and certainly was recognized by many people.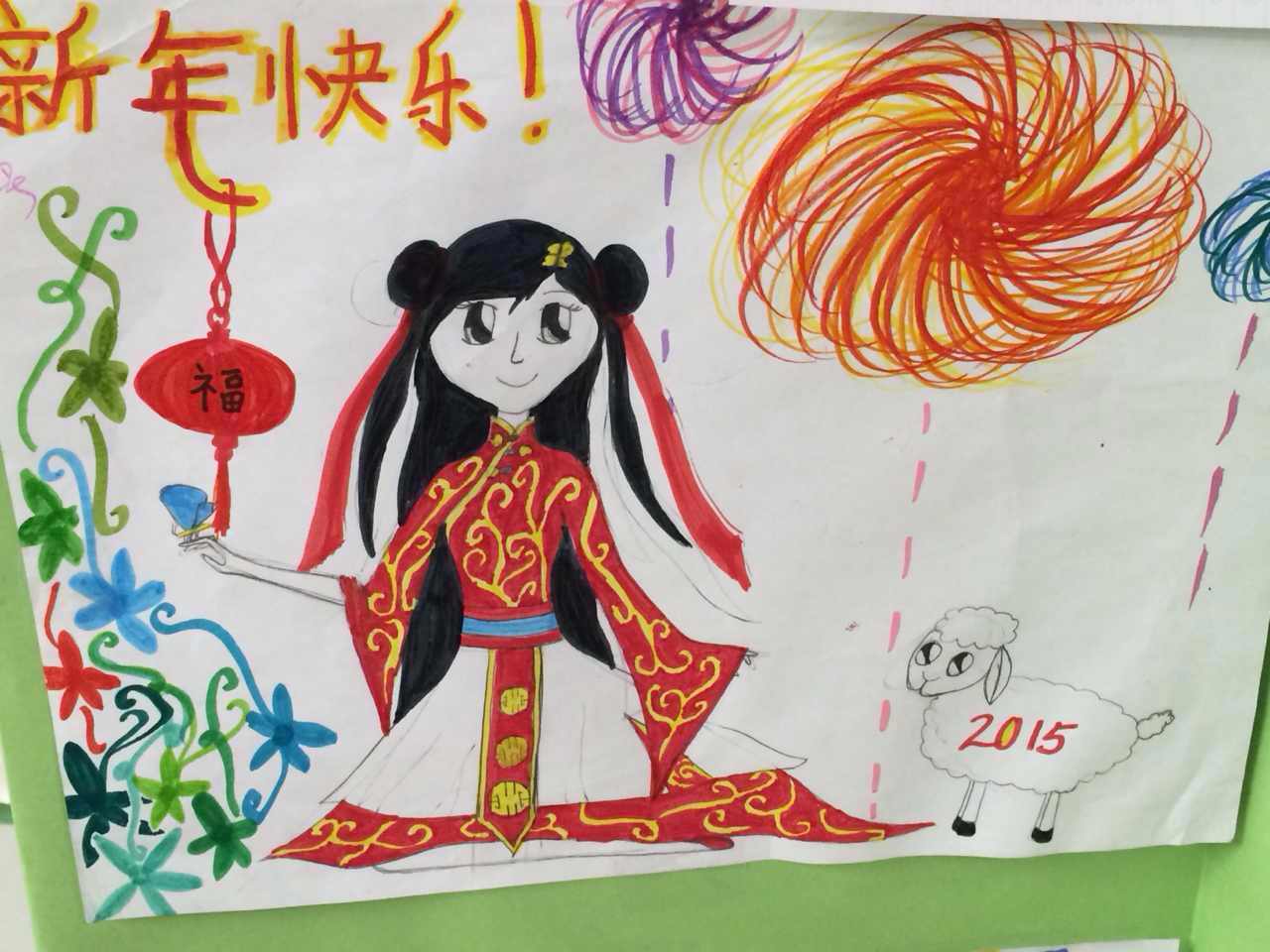 As far back as she can remember, Wendy has been interested in art. As a little girl, she was always coloring in coloring pages and begging her mom to buy her more. Her mom also helped along the way. Her mom was the one with the wallet, and she purchased all sorts of coloring books and crayons for Wendy. Another person helping Wendy was her good friend Cassie Li. Cassie taught Wendy "how to draw actual people (not stick figures), more realistic eyes, stuff like that." Another comment from Wendy is: "My friend Cassie Li got me into drawing. She taught me a lot in the first and second grades." Wendy learned a lot from Cassie Li! Wendy also learned and used many other types of art. "My art teacher taught me anime (a sort of Japanese cartoon) and cartoon."
Wendy has had a lot of fun being an artist, and as she got older, Wendy started to draw a wider range of artwork. But being an artist isn't all fun and games. It's also a lot of work and takes time, and patience! A lot of artists took a very long time working on their works of art. Do you know how long it took Leoneardo daVinci to paint the Mona Lisa? 16 years! He stopped to eat and sleep, of course but it took him a pretty long time! Wendy, of course, did not take 16 years to draw her work of art, but she took a long time! Wendy doesn't even know how long her picture took to draw!
Wendy's idea was completely original, but she received a few suggestions as well. Her picture was a Chinese girl with a sheep, fireworks, and lanterns. Originally she had drawn a fairy, but she added in the background and the sheep, because "it had to be new year's related." She also used anime, a cartoon which draws its history back from Japan.
This young artist is still working on her art. We will all be waiting for her next piece. Her picture was a feast to many people's eyes, including mine, and it won't be her last.